Art Inspired by a Presidential Home to benefit JFK Hyannis Museum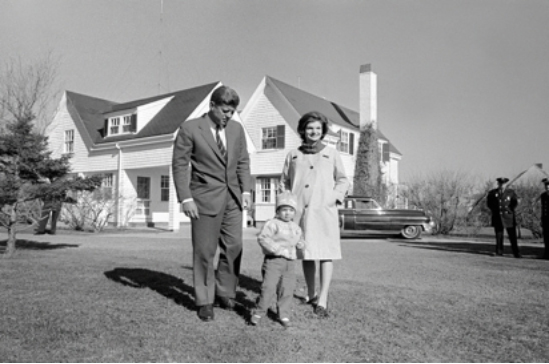 These unique artworks made with materials salvaged from Jack and Jackie Kennedy's home on the Kennedy Compound in Hyannis Port, commemorate the 100th anniversary of John Kennedy's birth. The project is a collaboration between many of Cape Cod's finest artists, the JFK Hyannis Museum, and the Cape Cod Chamber of Commerce. Artworks will be auctioned at Wequassett Resort in Harwich, MA, on August 7, 6-10pm. Bidding will begin on-line at jfkhyannismuseum.org in July.
There is no better tribute to the centenary of the great president JFK who believed that art is "the great democrat, calling forth creative genius from every sector of society, disregarding race or religion or wealth or color."
AUCTION was August 7, 2017, 6-10pm at the Wequassett Resort, Harwich, MA, bidding on-line at JFK Hyannis Museum
INSPIRATION and PROCESS
For my JFK sculpture "Portrait", I chose a peeling painted wood column and interior cabinet shelving and doors with hardware from JFK and Jackie's Presidential home on the Kennedy Compound in Hyannis. In my studio, I set up the wood, studied it and I must admit, I found the importance of these artifacts somewhat intimidating. To feel the energy of the wood that JFK and Jackie lived with, I decided to scrub and lightly sand the surfaces and at the same time, find inspiration from researching the public and private JFK. I realized that columns signify historic places and that many busts or "portraits" of the famous, are set onto columns. I began by stenciling JFK's accomplishments around the top of the column; Purple Heart heroism, writing Profiles in Courage, Peace Corps, Project Apollo, President's Advisory Council on the Arts, Cape Cod National Seashore. I even honored my own Dad by using his Navy stencil kit to apply PT-109 and other small stenciling. Next, I cut the wood shapes from the cabinet doors and used the traditional wood joining technique of pegging.
My intension is for this sculpture to be accessible to various audiences, so I used recognizable iconic symbols; the broken hearts piled up, the layered house representing interior life, the sailboat shape of his beloved "Victura" taken from a doodle JFK would make on his notes during Presidential briefings, the crosses for the politically prominent Kennedy brothers who are gone now and the large curve which could be the moon but it also has the look of a sundial, which indicates the passage of time, together these symbols create my "Portrait" of JFK.